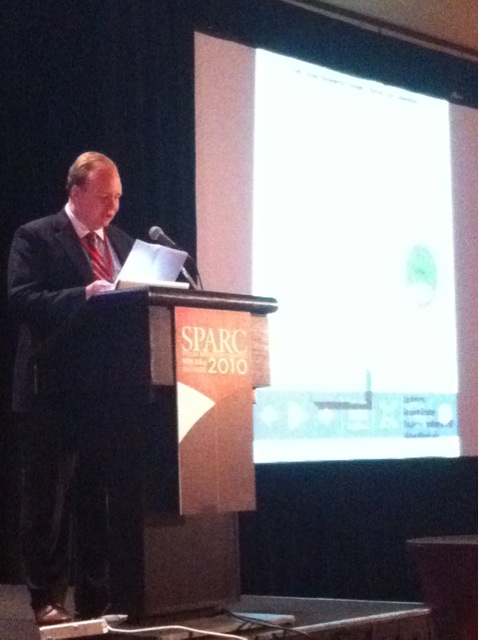 From a brief talk given 8 November at the SPARC 2010 Digital Repositories Forum:
Hello, I'm Jay Datema, associate director at the Bern Dibner Library, Polytechnic Institute of NYU. I'm honored to be included in this year's Innovation Fair at the SPARC conference. I have two minutes, so I'll keep it short.
My poster is entitled "Full Circle Research: Occam's Razor for Collection." As many of you know, Occam's Razor is a principle taken from the philosopher William of Ockam, who posited that "when several theories model the available facts adequately, the simplest theory is to be preferred." Â This principle dates back to the 1300s, so it's had some time to prove itself. Institutional repositories, on the other hand, are just a decade old.
Simply stated, my poster shows that research is a process that starts with an analysis of publications, which of course will then produce more publications. As Samuel Johnson said, "The greatest part of a writer's time is spent in reading, in order to write; a man will turn over half a library to make one book." What is the online equivalent? I suppose it would have to be endless surfing of bibliographies, databases, and PDFs. Research only ends when your attention span falters or a deadline awaits.
Continue reading →